System Highlights
Gap rate of 150 PPM
Repeatable gap variation to within ± ½" if product is properly formed
Air-accumulation infeed to smart-gapper conveyor provides frictionless accumulation of product for controlled stoppages and conveying recovery
Operator interface for product selection, system controls, and alarm display
System flexibility/customization to allow for different bag sizes and packaging rates
Controls and operator interface configured to customer standards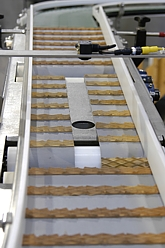 The KSBGI is the ideal infeed product placement system for case packing applications. It allows repetitive, precision placement and conveying of bagged or wrapped product regardless of packaging material.
Designed as two-lane and dual-direction, the smart-belt infeed product gapping system can be easily integrated into any of Kraken's full line of case packing systems.
Purpose-designed for product infeed applications where product is transferred directly to the case packer system, bypassing the cartoner, the gapping infeed purposefully allows a time lapse between placed product (i.e. gaps) to allow the case packer to properly handle the product.
As with other innovative infeed delivery systems developed by Kraken Automation, motion-controlled technology is employed to provide repeatable, high-speed bagged or wrapped product gapping for any tertiary packaging equipment requiring consistently pitched product.
Cereal
Pasta
Spices and seasonings
Potatoes
Rice
Chocolate mix
Frozen and wrapped products
Household consumables