System Highlights
Direct coupled, servo driven paddles rotated in a 120 degree motion; all paddles have a specifically designed profile bag for proper alignment prior to transfer, while preventing bag pinching during the high speed transfer motion
A modular control design providing a virtual "plug and play" format utilizing standard control platforms (A/B Flex I/O, etc.); just connect the I/O to the cartoner control processor and provide the power to the transfer
Provision of the transfer control program to be integrated into the existing cartoner control program; Kraken can provide services to integrate this code, complete with alarm handling and OI (Operator Interface) configuration for transfer cam timing entry
Single or double bag transfer capability at speeds up to 100 bags/min on single bag transfers or up to 75 bags/min for double bag transfers
No requirement for cartoners with special bucket sizing mechanisms
Complete commissioning and training services for operations and maintenance personnel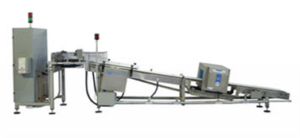 The Kraken KSIT-100 is the latest in industry robust and proven high-speed servo transfer technology available on the market today, meeting and exceeding customer end-use requirements. It is designed to seamlessly coordinate the timing of the bag rates and transfer bags with the cartoner such that the system operates continuously, and it also has provisions for recovering from situations where the timing is thrown out of synchronization.
Kraken Automation has provided a number of customers with a manufactured transfer mechanism that can transfer bags at rates up to 100 bags/minute on a single machine.
This system can work completely as a standalone "plug and play" and be fully integrated into an existing carton packaging lineup. Production start-up can occur in less than one day due to its ease of assembly.
With no wear parts in the KSIT-100, the system replaces costly overhead sweeps, slide gates, and pivot gates which eventually result in mechanical wear and require replacement.
Metal Detection Integration
Kraken can integrate a metal detection device into your transfer system to help eliminate metal contamination.
If you are looking to upgrade your system or expand your existing line but your current conveyor system will not fit your metal detection layout, we can design conveyor/transfer systems that will accommodate any metal detection device on the market.
We supply any of the popular lines like Safeline, Loma, Fortress, Goering, or as specified.
Cereal
Pasta
Spices and seasonings
Potatoes
Rice
Chocolate mix
Frozen and wrapped products
Household consumables