System Highlights
Product right angle orientation and synchronous delivery to 200 units/min
Capable of handling products of various sizes and shapes
Right angle sweep motion completely servo based, providing optimum speed and product handling control
Unique sweep belt design, eliminating high maintenance chain and flight linkage maintenance
Integral infeed and discharge product conveying to integrate within packaging line, using Kraken center drive belt conveyors
Machine framing available in aluminum or stainless steel construction
Applied wide industry of accepted integrated servo controls or as specified
Additional options for extended sanitary applications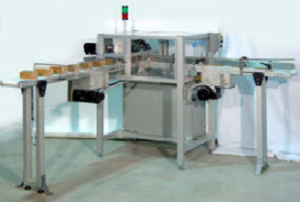 The KRAS-200 Right-Angle Sweep, contained within a small-footprint sanitary enclosure, is a high-speed product synchronizer and right-angle product orienter.
The KRAS-200 product or case orientation system accepts randomly presented products from upstream packaging systems and synchronizes product delivery to cartoning infeed machines, presenting the product in a right angle orientation. Products of varying shapes, package styles, and orientations can be easily and gently handled at rates of 200+ per minute.
The KRAS-200 can function as a standalone machine, or it can be integrated into a variety of food and beverage product packaging feed and delivery/materials handling systems.
This product offers a complete operator safety system guarding from any moving sweep mechanisms. Conveyors both at product entry feed and discharge points are enclosed with tunnel guarding within 36" of the moving sweep device. Further, a top entry guard door with interlock is provided, facilitating problem-free system clear out.
Food and beverage products such as cereal bags, cracker slugs, and frozen food trays
Products of varying shapes, packages, and orientations