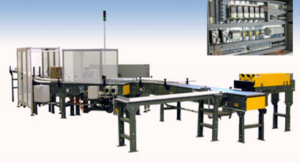 Industry Robust, High-Speed, Multi-Profile Case Conveying and Orientation System
The Kraken KCCO/S-30 system allows for a zero time changeover process offering dependable, repeatable, and consistent operation. It can transfer 30 cases per minute (nominal) – the highest case speed orientation system available on the market today!
This state-of-the-art high-speed case conveying and orientation system is designed to accommodate a wide range of case sizes. The system provides configurable orientation on a case size by case size basis, ranging from 52 to 127 cubic inches.
Kraken KCSF-30 Retractable Star Wheel Case Flipper
Case orientation is achieved by an automatic, retractable "Star-Wheel" case flipper, the KSCF-30. This unique engineering design, the first in the industry, was developed by Kraken Automation to meet a case orientation and conveying requirement to accommodate 13 case sizes.
With this solution, cases can be conveyed on the same conveyor line at any given time without requiring new hardware, setup, or a time consuming changeover. Operators can automatically reconfigure case orientation requirements (no case flip, forward case flip, side case flip, forward and side case flip) simply by selecting the case size at the system point of control. No other mechanical setup or adjustments are required.
This functionality provides operators with optimal uninterrupted flow and control of cases being conveyed.
Moreover, systems can be configured for conveying and orientation on more than 2 axes and can be adapted to perform random orientation by scanning bar code SKUS on cases.
Corrugated cases of products – pharmaceutical, food, beverage, and more
Any type of case from 1 to 100 pounds