System Highlights
Product merging or distribution at rates from 150 up to 400 units/min
High speed product gating system, allowing product routing for closely spaced (minimum gap of 1") product in transit
Simple, rugged machine concept using tabletop conveyor
Machine framing available in extruded aluminum or stainless steel construction
Apply a variety integrated industry accepted controls
Additional options for extended sanitary applications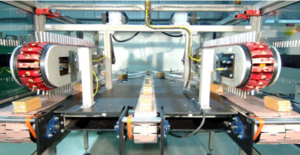 From a product merging and redistribution standpoint, the KLB03-200 is the answer to selecting, diverting, and merging product on high-speed production lines where proper product phasing and gapping is crucial.
The KLB03-200's multiplexing functionality is achieved when it diverts product from one or more source lane(s), then redistributes the product to one or more destination lane(s): selecting, diverting, and merging at measured intervals to ensure correct product interlacing following gapped placement.
Correct gapping and interlacing effectively allows for increased production in that the downstream machines are kept evenly stocked with product. The speed of upstream feeder stations, due to lack of stoppages, can now be incrementally increased; this allows for an increase in throughput without any significant additional expenditures required.
Cereal bags
Cracker slugs
Frozen food trays
Small to medium size cartons
And more!