System Highlights
60 PPM (twin/dual pack configuration)/120 PPM (single pack configuration)
Eliminates the need for human intervention for placing products into cartoner bucket by hand or manual packing
Incorporates multi-roller indexing stages depending on product widths and can be reformatted to run both small and large products by reconfiguring the indexing stages and number of stages
Reduces or eliminates orphan products for multicomponent products
No product size change or recipe management system required
8-axis Stepper drive control system
Small footprint, compact design, portable (roll in place and lock in position), or fixed in position
Closed face, extruded aluminum frame, and mounting posts and can be made available in stainless steel
System can be engineered to incorporate either stepper or servo technology depending on the application and speed requirements
Product transfer paddle device comes with auto transfer zeroing as well with home acquisition on system reset
Optional can include HMI for parameterization of products, alarms, and diagnostics
Cantilever design for quick belt changes
110 V, 15 amps, single phase input
All AB controls (plc, O/I and hardware)
No encoder feedback required for positioning system
Conveyor belts allow loose product to fall through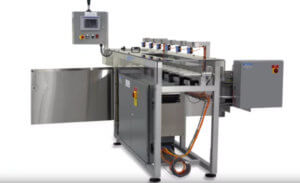 The Kraken KAIT-120 is a cost effective product feed system that incorporates Stepper technology and product sensing intelligence for handling random fed products from baggers, pouchers, and flow wrappers. This is achieved using intelligent motion-controlled roller infeeds that have multi stages working synchronously to adjust infeed speeds (ramps-up quickly to hit target) through the accumulator buffer infeed and into the launch transfer paddle device, which then rotates to drop product into the travelling cartoner bucket below.
This system is also applicable to any packaging operation requiring intelligent product feed for proper staging and gapping of product to put them on pitch, like case packing for example.
The KAIT-120 is ideal for food packaging/handling applications when looking to optimize product infeeds from baggers, pouchers, and flow wrappers to cartoning and case packing applications. Offering throughputs of 120 PPM, this system packs a serious punch with higher efficiency and productivity in a small footprint.
Options
Further flexibility can be added to your infeed transfer systems to suit your particular application through the addition of the following available options:
Long-bag detection, equipped with an associated reject blow-off system, can be integrated to the infeed conveyor
Proper product distribution prior to bag transfer can be ensured via the addition of our product settling and conditioning mechanisms
A transfer pass-through option, easily configurable, can be integrated to the system to direct the transfer unit to bag drop either to the cartoner or to the bulk pack/alternate packaging stations
Pouches
Bags
Bars
Square trays
Rectangular trays
Circular/disk-shaped products