System Highlights
160 PPM
Compact footprint: 4.8' X 8.6'
3-axis motion-control driven carton indexing and handling system
Dual-chain indexed carton-delivery system, with configurable changeover flight configuration
Motion-controlled carton pusher
All enclosed, extruded aluminum frame structure
Electrical control panel, configured for North American or International voltage standards
Small operator interface for alarm display, manual control, and product selection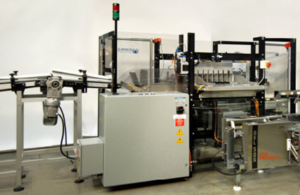 The KCP-160 paves the way for error-free, fast, and efficient product packaging by presenting grouped products for manual (hand) case packing.
This case-packing system employs an automated product staging and collation infeed system to enable automated product orientation and reorientation; parts can even be upended if required. Product is also indexed automatically into pre-set pack-count configurations, such as 6, 12, 16, 18, 24, and 36 to facilitate fast and accurate operator packing into the shipping cases.
The KCP-160 Case Packer offers maximum functionality in a compact footprint; it measures 9' X 13"and can be incorporated into any case packer manufacturer's existing line, whether or not automated equipment is already partially in place.
Stand-up pouches
Food
Beverage
Household consumables