System Highlights
Speeds of up to 300 PPM
Easy assembly—plug and play design
Standalone control system
User-friendly with low maintenance
Remote local positioning systems adaptable to new or existing control architectures
Infeed metal detection and/or check weighing of product with defect reject
Custom product collation and insertion assemblies (fitted to transfer section of KPART-300/50) to present product bundles for intermittent motion cartoners
Configurable accumulation storage based on a variable ceiling heights (standard configuration of 50 product items)
Single-Lane System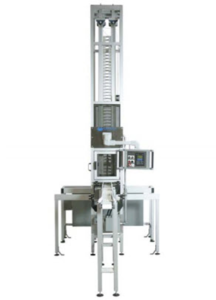 The Kraken KPART-300/50 Accumulator-Refeed Transfer Packaging System is the first of its kind on the market today and can be designed for manual or automatic refeed, depending on your requirements. The KPART-300/50 is uniquely suited for cartoner infeed bucket systems for bag-in-box operations where orphaned or single product displacement occurs, resulting either from misfeed or system rejection. Products that would have otherwise been wasted with no way of reintegration back into the system down-line because of process limitations, safety hazards, and pinch points regulated by OSHA can now be solved by the Kraken Accumulator Refeed Transfer System.
This system meets all OSHA requirements and allows you to refeed products safely, quickly, and efficiently back into your automation process. With the KPART-300/50 you will realize immediate cost savings and process efficiency through reject product recovery that would have otherwise been lost.
You can depend on the KPART-300/50 system to reintegrate product back into a cartoner infeed at speeds of up to 300 units per minute (50 at a time). Thanks to SERVO technology with pre-engineered programming and testing, the Kraken KPART-300/50 system will reintegrate your product with repeatable, precise placement every time.
"Bag-in-box" multi pack applications