System Highlights
Available in a wide variety of materials depending on application requirements
Safe-spray washdown access and quick-clean part removal upgrades available
Supplied through industry-standard distributors like Rexnord, Intralox, and Flexlink
Easily integrated into existing packaging conveyors
Can be constructed of acetyl plastic, metal, or other alternate materials to meet sanitary, temperature, and corrosive environmental restrictions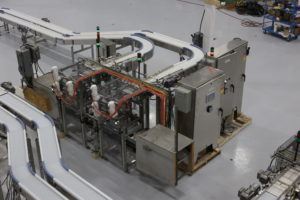 Kraken's modular chain conveyor belts are constructed from a wide variety of materials depending on application requirements. Supplied through industry-standard distributors like Rexnord, Intralox, and Flexlink, our chain conveyors range from standard aluminum to stainless steel frame construction; some of our chain conveyor systems also include sanitary enhancements. Safe-spray washdown access and quick-clean part removal upgrades are required for sanitary environments that must maintain USDA standards.
Kraken Automation can integrate flexible chain conveyor belt systems into existing packaging conveyors using alpine structures, tight radius curves, and drive assemblies positioned, in the case of space constraints, in either end or center mountings.
No specialized requirement is unworkable; a complete range of application-specific components and materials are readily available for integration into Kraken purpose-designed chain conveyor systems.
Whatever your material handling requirements, let Kraken work with you to develop your chain conveyor belt solution.
KSpan Module
One major challenge in product delivery – when transitioning product from conveyor to conveyor, or from conveyor to packaging equipment – has plagued chain conveyor manufacturers for years: the transition gap.
Kraken Automation has the solution: an uncanny innovation designed in-house finally answers this chain conveyor design problem.
Kraken's KSpan option module provides users with tight nose chain pulleys, which minimize transition gaps to within 1/8 of an inch while simultaneously providing smooth transition of products. For applications where product timing and/or gapping is critical, KSpan is the answer.
Options
KCC chain conveyor belts can be configured for different product transport requirements; for example, low-accumulation, high-grip, and flighted-insert options can be added. Application-specific chain conveyor belts can be constructed of acetyl plastic, metal, or other alternate materials to meet sanitary, temperature, and corrosive environmental restrictions.
Our wide spectrum of material handling options can be integrated into any Kraken KCC chain conveyor design to provide customers with fully functional and versatile chain conveyor systems.
Some of these options include:
Metal detector conveyors (metal detectors of various brands) with reject and reject confirmation (on Bag Packaging Conveyors)
Long product or mal-oriented product detection with reject (on Pouch or Wrapped Product Packaging Conveyors)
Drawbridge packaging conveyors to allow safe access within land-locked areas on the packaging line
Product accumulation and merging (on Carton Packaging Conveyors)
Pouch chain conveyor systems for juice products
Small packet-chain conveyor belt for micro-products
Wrapped product chain conveyor systems for frozen trays and produce
Bag chain conveyor systems for cereal and snacks
Tube chain conveyor systems for yogurt products
Carton chain conveyor belt for inter-machine transport
Case chain conveyor belt for inter-machine transport
Chain conveyor segments integrated into Kraken material handling solutions