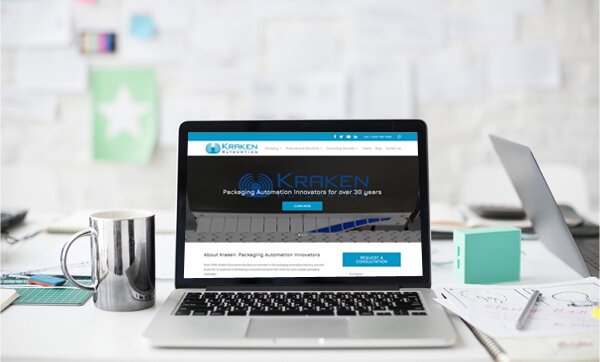 Kraken Automation is excited to announce the launch of our new website. If you've already had a chance to look around, you'll notice some big changes.
We've redesigned our site to update our overall look and reorganized to help you better find what you're looking for. Our comprehensive new site will allow you to find the information you need quickly and help to fulfill your packaging automation needs.
Our product pages outline each of our off-the-shelf packaging systems, including videos, images, and features of each product. Browse by category and find the solutions you need to increase productivity and uptime.
Whether you're in need of engineering, training, machine upgrades, or consulting, take a look at Kraken's wide range of services to help you optimize your packaging line productivity.
As you explore the site, check out our new blog that will cover a variety of topics related to packaging automation, such as new innovations from Kraken and general tips to keep things running smoothly on the plant floor.
Our newly updated Company pages provide some history about Kraken Automation and information about our unique and thorough process.
We hope you find our new site informative and easy to use!
---
Kraken Automation is an innovator in the packaging automation industry, and well-known for its expertise in developing customized solutions that solve the most complex packaging challenges. Get in touch with us today to see how we can help you optimize packaging line efficiency.
You might also like: